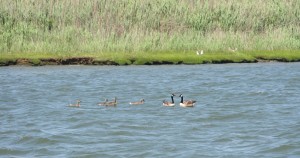 Spring on Long Beach Island is a wonderful time of year! The beach badges go on sale, the boats start going in the water, restaurants open up and you can feel the excitement  from everyone about the nice weather and upcoming beach days.
Spring beach days are some of my favorite days. It doesn't matter if it is a little cool because the sand is nice and warm. It feels good to sit in the sand again. Depending on the winds, the beach can get quite warm in the spring.  Although, everyone is anticipating summer, don't forget to enjoy spring.
There are some events to keep in mind when planning your spring LBI trip.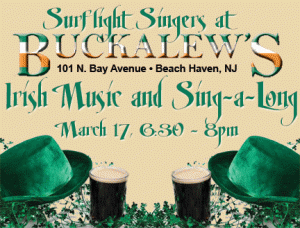 Beach Haven Easter Parade and Egg Hunt
Sat, March 27, 12pm – 2pm
Where: BH School & Veterans Bicentennial Park
Description: Parade starts at BH School 7th Street at noon, proceeds to Veterans Bicentennial Park Engleside & Beach Avenues, site of Easter Egg Hunt at 1PM
Ship Bottom Sprint For Life
April 3. 2010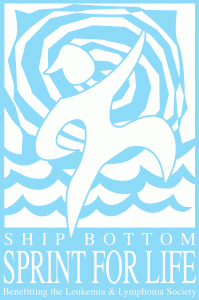 An Egg Hunt and a live performanceat the Surflight
April 3 at 11:00 am $12.00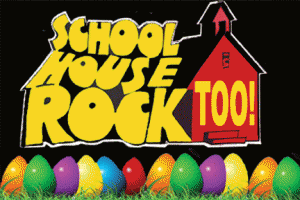 St. Francis Flea Market & Chinese Auction
April 07- April 08, 2010 at 9:30 am – 3:00 pm
Auction takes place on Wednesday only. Progressive 50/50 Cash Raffle Drawing takes place on Thursday at 3 PM. Come for lunch both days. Best lunch and bargain on LBI. Items can be dropped off Tuesday, April 6 after 9 AM Mass at St. Francis Church Hall. No Clothing, Computers or Vendors please! Sponsored by the Secular Franciscans
Murder Mystery Dinner Show
"Fishin' For Trouble:  A Whale of a Fatal Tale"
April 16, 6:00 PM at the Engleside Inn
In conjunction with the Surflight Theatre.  Starring the cast of Surflight To Go.  $80 per person Dinner Ticket ($30 of each ticket is tax-deductible.)  Overnight packages beginning at $160 pp/double occupancy, includes dinner show, overnight accommodations at the Engleside Inn, hot breakfast, and a reserved seat for the matinee performance of Sisters of Swing at Surflight on April 17.  Seating is limited.  Call the Surflight Box Office at 609-492-9477 for reservations or email Brooke@surflight.org.

Ship Bottom Sidewalk Sale Days
  -in May 5/21, 5/22 & 5/23
– in June 6/5, 6/6, 6/13, 6/14 & 6/15
Many Ship Bottom Merchants will be participating in Sidewalk Sales.
Memorial Day Celebrations
May 30, 2010 Barnegat Light Memorial Day Paraade-kids on bikes and firetrucks with ceremony at the Lighthouse
May 31, 2010 at 1 p.m. on the front lawn of the Ship Bottom Borough Hall, 16th & the Blvd.
High Point Vol. Fire Co. All Boat Tournament and Fish Fry
 Sat. June 12th-For more info call 609-494-9169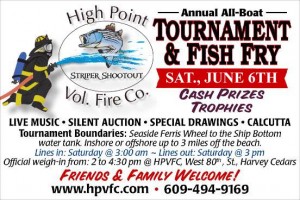 LBI Fest (Seafood Festival)
June 12, 2010
1st Annual LBI Fest from 11 am – 6 pm at Bayview Park across from Long Beach Twp. at 68th St. Beach. Sponsored by Long Beach Twp. & LBI Business Alliance. Many Great LBI restaurants & Shops. FREE Admission & lots of fun. For info, call Deb Thompson at 609-361-6635.
Barnegat Light Jazzy Scallop Festival
June 19, 2010
Jazzy Seafood Festival at Viking Village, 19th and Bayview – Jazz, scallops, seafood, wine ad beer. It's a lot of fun. Proceeds benefits SRHS music and marine science scholarships.