We've had our share of storms on Long Beach Island this season and another one is on the way including a blizzard warning from the National Weather Service. Strong northeast winds and more beach erosion are expected.
Healthy beaches are our first line of defense to protect homes, businesses and inland structures along the coast by acting as a barrier from the pounding repetitive wave action resulting from coastal storms.
The Bureau of Coastal Engineering, in cooperation with the U.S. Army Corps of Engineers, provides beach nourishment and re-nourishment projects. Harvey Cedars is the current phase of The Long Beach Island Storm Reduction Project. Hopefully, the work that was done so far will significantly cut down on the beach erosion expected from this storm.
To get a better idea of the change in the amount of beach in Harvey Cedars, view a photo of the Beach Replenishment Project at the start in November 2009.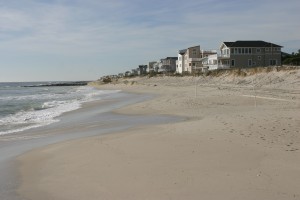 Compare the start of the project with Progress of the Harvey Cedars Beach Replenishment Project on Day 74 photos
If you want to do your part in protecting and preserving the sand dunes, do not walk on or disturb the dunes, plant dune grass and native plants, repair and/or replace dune fencing that helps prevent damage to the dune grass and traps wind-blown sand.
 Visit the US Army Corps of Engineers website for more information
 Visit the Harvey Cedars website to see photos of the replenishment progress