Today is March 1st and it is the month of spring and I am looking forward to walking without snow on the ground. One of the things that I love about Long Beach Island is that there are so many interesting places to see even by getting around on foot.
Some LBI towns are more walkable (stores and amenities are within walking distance) than others. Beach Haven has the highest walk score on Long Beach Island with a score of 65 out of 100. Ship Bottom has a walk score of 43 and Surf City has a walk score of 38.
Find out the Walk Score of your town.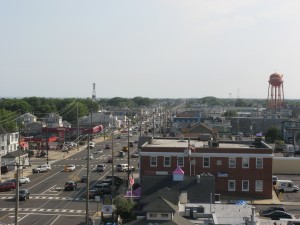 One of my favorite things to do is get the family out and walk to nearby parks, mini-golf, stores and restaurants. The kids get to interact with all the neighbors outside and we have great family talks. I live on Long Beach Island all year long and there is always something new to see when I go outside and walk.
Another fun activity is to get to your destination by walking along the beach and see where it takes you. A walk on the beach is sometimes like a treasure hunt; the ocean waves wash up some interesting things. After walking along the beach, walk up to the Boulevard and look around to see where your walk has taken you. You may be able to grab a bit to eat at one of the many local restaurants. It's a great fun way try a new place to eat and then recommend it to friends.
Walking is important for Long Beach Island local businesses. It's easier for pedestrians to stop and shop at stores on one trip, since they don't need to drive between destinations and get in and out of the car, look for parking, etc. The next time you drive to your destination, park your car and walk the rest of your trip, explore what LBI has to offer and don't look at things as a blur driving past in an automobile. You might find a new favorite shop.
Walking the neighborhood offers surprising benefits to our health, the environment, and our community.
Start walking and see what you find on LBI. You'll be surprised!