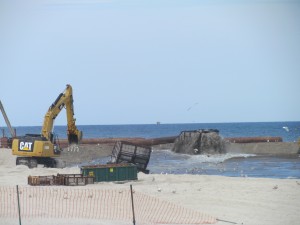 The U.S. Army Corps of Engineers' latest update to the schedule of beach replenishment on Long Beach Island shows operations jumping to Nebraska Avenue in the Beach Haven Park section of Long Beach Township in early June and progressing south to 34thStreet in Beach Haven Terrace, after work concludes in Ship Bottom.
As of Tuesday, May 26, the beachfill discharge site was between 20th and 21st streets in Ship Bottom.
Contractor Great Lakes Dredge and Dock Co. began dredging and beachfill efforts in Ship Bottom in early May, with two dredges, the Padre Island and the Dodge Island, on the job. A third dredge, the Liberty Island, is scheduled to come to the Island in August.
As Corps Public Affairs Officer Steve Rochette explained recently, the project involves dredging more than eight million cubic yards of sand from an approved borrow area approximately three miles offshore. A series of pipes is pumping sand onto the beaches in Ship Bottom, Long Beach Township, Beach Haven and a small section of Surf City, for a combined project construction length of 12.2 miles.
"The sand is then built into a dune and berm system designed to reduce potential damages to infrastructure, businesses, and homes that can occur from coastal storm events," said Rochette. "In addition, the contract includes the construction of dune crossovers, placement of sand fencing and dune grass plantings."
Work is expected to end in the Nebraska Avenue to 34th Street segment of Long Beach Township in late July.
Then, operations will move to 56th Street in Brant Beach, progressing south to 84th Street in Brighton Beach from early July to mid-August.
From late July to through mid-September, beachfill will take place from 34th Street in Beach Haven Terrace to 11th Street in Beach Haven.
Eighty-fourth Street in Brighton Beach to Nebraska Avenue in Beach Haven Park is slated for mid-August to early October.
Eleventh Street to Ocean Street in Beach Haven should see operations from mid-September to mid-November.
Work is to run from Ocean Street to Joshua Avenue in Holgate from mid-November to mid-January.
The project is scheduled to progress from Joshua Avenue down to the southern boundary of the project from mid-January to mid-March of 2016.
Northern sections of the project – Loveladies, North Beach and a small section of Surf City – are expected to undergo construction in the winter.
Rochette emphasized that the locations and time frames are always "rough estimates that can change due to a number of factors," including weather and equipment.
Great Lakes – which is working 24 hours a day, seven days a week – anticipates progressing 100 to 300 feet a day depending on the condition of each beach. Crews will close no more than 1,000 feet of beach as work progresses.
At a recent Long Beach Township Board of Commissioners meeting, Mayor Joseph Mancini noted, "Great Lakes is roaring through Ship Bottom."
All work under the base contract is required to be complete by April 12, 2016, with options on the contract for possible extensions due to additional workload or weather and or mechanical delays.
As explained on the Army Corps website, www.nap.usace.army.mil, the beach replenishment project is a joint effort between the Corps and the New Jersey Department of Environmental Protection "designed to reduce storm damages from future events and is 100 percent funded by the 2013 Disaster Relief Appropriations Act."
Initial construction of the project took place in Surf City in 2006; in Harvey Cedars in 2010; and in Brant Beach, between 31st and 57th Streets, in 2012, followed by repairs to the various sites after Hurricane Irene and Superstorm Sandy.
— Juliet Kaszas-Hoch
juliet@thesandpaper.net May 27, 2015