The Army Corps of Engineers Beach Protection, Restoration and Replenishment Project lost at least 40 days due to winter storms this season. The project was due to be completed by March 2010 but the project is running late.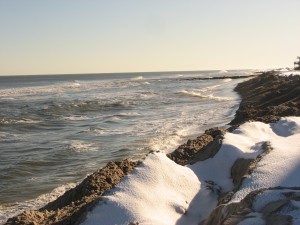 Since November, 1.1 million cubic yards of sand have been pumped onto borough beaches and there are plans to place another 1.6 million cubic yards before reaching Harvey Cedar's southern border at Bergen Avenue. Right now, work crews have reached the middle of the borough-off of Essex and Middlesex Avenues.
The storms this season are not giving the beaches any time to recover and the already vulnerable beaches are eroding further. The dunes are being reinforced to protect homes in areas that the project hasn't reached yet.
Read the complete "Harvey Cedars Beach Replenishment Delayed by Winter Snowstoms" article written by Jessica Infante on February 22, 2010.
This is exactly why this beach replenishment project is needed on Long Beach Island. The restored beaches will provide the community protection from storms that haven't had time to recover naturally due to the frequency of the storms. So, if more time is lost with this next storm, any unfinished beach work in Harvey Cedars will be completed in the fall including necessary dune grass planting.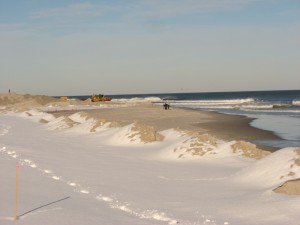 Why worry about the dune grass if there is enough sand on the beach…
…vegetated dunes will provide valuable protection from storm waves.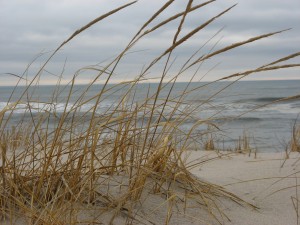 The best time to plant dune grass is from mid-October through March (the dune grass dormancy period). On the other hand, if the winter storm season is severe, high tides and waves may erode dunes and newly planted dune grass before the root system develops.
 Once established, dune grass spreads by underground stems to form a dense vegetative cover. The foliage decreases the wind velocity near the dune surface, and sand is deposited in the vegetation. As the sand continues to accumulate, the grass grows up through it, maintaining a protective cover.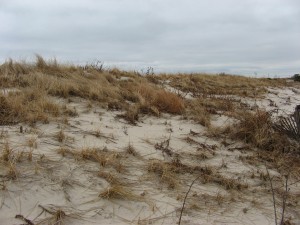 In the winter, dune grass looks as if it died off but the roots are still alive. Even though the grass leaves and stems are brown, they are still effective in trapping wind-blown sand. Depending on springtime temperatures this year, you'll probably be able to observe new green shoots growing up at the base of each brown clump of grass by the middle of April.
Dune grass can tolerate the harsh conditions on the coast but cannot withstand foot traffic. These activities crush plant shoots and roots. Trampling by pedestrians and often lead to greater sand removal by wind.
As summer approaches and the crowds step onto the beaches, many people are unaware of how fragile the dune grass system is and how important it is in maintaining our beaches for future use. Protect Long Bech Island beaches and spread the word about our dunes.
Reference: Read more on protective dune vegetation
Please share your thoughts and experience in the comments below.