Sometimes buyers are looking for a good investment but live too far away to enjoy LBI often so it can be confusing to a new buyer where on Long Beach Island to actually purchase an investment property.  Each LBI community is different and offers a different experience. There are very quiet and secluded areas and beaches as well as more active towns with more of a night life. Some towns have more walkable activities some people prefer to easily walk to a market, mini golf, ice cream or restaurant.
If you love to spend your time surfing, you might want to be close to spots that have a reliable break or maybe you want to be on either end of the island if you love to fish so you can get out to the ocean quickly when the fish are biting at the north end Barnegat  Inlet and south end Little Egg Inlet. The north end of the island is home to Barnegat Lighthouse State Park and the south end of the island is home to the Edwin B. Forsythe National Wildlife Refuge.
The chart and map below should help you better understand the town layout on Long Beach Island. Take note that Long Beach Township has 15 sections that are not all together. There are some Long Beach Township sections on the north end as well as the south end. Sometimes LBI buyers complete a real estate search for Long Beach Township and do not realize that the search search results will give listing results in High Bar Harbor as well as Holgate and most have a general idea of where they want to be on LBI.  Use our advanced LBI property search to quickly search for LBI properties matching your search criteria. The search page also lists the towns from north to south.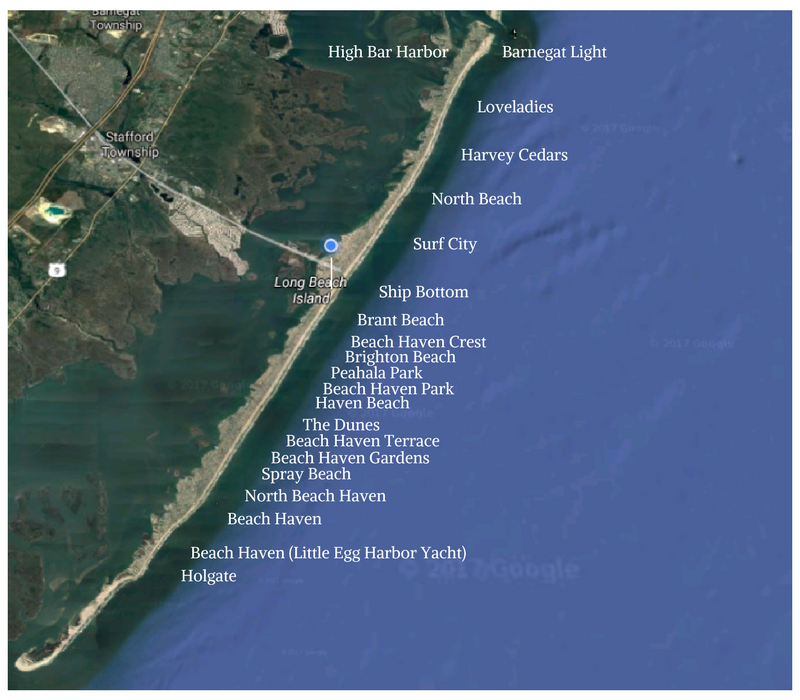 From north to south, the Long Beach Island layout is:
| | |
| --- | --- |
| CITY | TOWNSHIP |
| High Bar Harbor | Long Beach Township (LBT) –lagoons west of Barnegat Light |
| Barnegat Light | |
| Loveladies | LBT |
| Harvey Cedars | |
| North Beach | LBT |
| Surf City | |
| Ship Bottom | |
| Brant Beach | LBT   31st  to 74th   St |
| Beach Haven Crest | LBT   75th  to 83rd  St. |
| Brighton Beach | LBT   84th  to 89th   St. |
| Peahala Park | LBT   90th  to 97th   St |
| Beach Haven Park | LBT   98th  to 107th St. |
| Haven Beach | LBT   108th to 119th St. |
| The Dunes | LBT   120th to  128th St. |
| Beach Haven Terrace | LBT   129th to 133rd St. |
| Beach Haven Gardens | LBT     34th to  28th St. |
| Spray Beach | LBT     27th to  21st St. |
| North Beach Haven | LBT     20th to  13th St |
| Beach Haven | 12th to |
|      Little Egg Harbor | Nelson |
| Holgate | LBT |
Long Beach Island Waterfront Real Estate Links
LBI Oceanfront Properties For Sale
LBI Oceanfront Properties Multi-Family For Sale
LBI Bayfront Properties For Sale
LBI Waterfront Properties For Sale on the bay (includes Lagoonfront properties)
If you have specific search requirements for your Long Beach Island real estate investment, use the custom LBI real estate advanced search. The customized search tool was designed specifically for the Long Beach Island real estate investor.
You have the ability search all properties for sale on Long Beach Island.  The towns are geographically listed from the north end of LBI to the south end, with the ability to select an individual town, or focus on all of LBI.
You can also select a specific price range, footage of waterfront desired, oceanfront, bayfront, lagoonfront, oceanblock, oceanside, bayblock, bayside, number of bedrooms, number of bathrooms, age of property, and size of property. These are all selection criteria you may use in order to assist you with your Long Beach Island property search.